Hi everybody !
    First, allow me to appologize for the lack of updates but the first seven months of 2018 have been very busy for me ! Not enough hours in a day to do everything so I had to postpone updates to a later time. Now, at last, I have a bit of time although the end of August will bring even more business with work and, most importantly, my wedding !
    But let's turn our focus to the website for a minute. As some of you might have noticed, the name Photozoo is gone and the project is now called Pierre Wildlife. All the pages that used to be available under the Photozoo name have been rebranded with new logos to fit the new description of the website. There are two reasons for this rebranding: 1, the name was too close to the Photo Ark project's name for which I am working… it caused enough confusion to become troublesome, and 2/ I felt that Photozoo didn't quite suit what I was really doing anymore… sure, I still take photos in zoos, but I do more and more consulting work (both for zoology, education and conservation) and am more and more involved in production, pre-production and post-production of photographic trips along with other duties included in my work for National Geographic. Furthermore, I felt that my project isn't much a photo project… it is an education project linked to conservation. Therefore, instead of using names of activities or places that are secondary, I chose to broaden the scope and use my own name… so, I introduce you to "Pierre Wildlife" !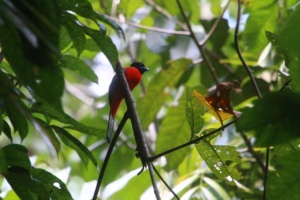 Despite all this work, I was able to spend some time in the field in Asia
and was lucky to spot beautiful wildlife such as this male Scarlet-rumped trogon (Harpactes duvaucelii) in Sepilok Rainforest Discovery Centre.
    As said earlier, all the features of Photozoo Collection and the old Photozoo photo gallery are still there and available under the URL www.pierrewildlife.com . You will find that the zoo pages have been slightly modified (Check out the new Yangon Zoo page for example) and lots of new pages have been added in different countries such as Czech Republic, United Arab Emirates or Myanmar (the last two visited for the first time in March 2018). With the rebranding, I had to reupload all PDF files displayed in each species pages with new copyrights and brandings. The uploading is finally complete and you can check out this example with the Eyelash palm viper's page. More than 1700 species pages are online and much more will be uploaded in the future.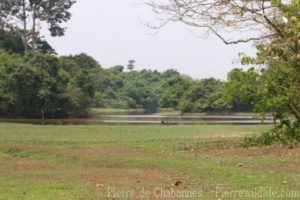 One of the beautiful areas near Yangon, Myanmar, is the famous Hlawga Park.
This huge place is like a gigantic open safari where you can watch hundreds
of macaques and deers living freely in beautiful open spaces such as this
grassland leading to one of the lakes. Far away in this picture, some
hog deers (Axis porcinus) can be spotted.
    My travel schedule has also been very busy with three trips to Asia planned this year and two already done. The first trip took me to Malaysia to give presentations at the MAZPA conference about education in zoos. This was a beautifully organised event and I am really happy to see that Malayan zoos are setting to follow the path of the world's best zoos. My gratitude goes to Dr Kevin Lazarus, director of Zoo Taiping and MAZPA, Gerard Woong, director of Malacca Butterfly and Reptile Sanctuary and Vice-president of MAZPA, Dr Gino Ooi, Director of Penang Bird Park and treasurer of MAZPA, and Junaidi Omar, head of education at Zoo Negara, for allowing me to come and giving me the opportunity to collaborate in helping Malayan zoos to grow.
    During this trip that occurred in March, I took the opportunity to visit the United Arab Emirates for two days and was very impressed by the quality of the collections of Al Bustan Zoological Centre, Arabia's Wildlife Centre in Sharjah and the Sharjah Aquarium. Another discovery in this trip was Myanmar, formerly known as Burma. I spent nearly 8 days in this amazing country and visited zoos in Yangon, Naypyidaw and Mandalay.
Probably the biggest highlight of the trip, the beautiful and very rare
Rufous-necked hornbill (Aceros nipalensis) is found in all of
Myanmar's biggest zoos.
    I went back to Asia in May, first with my wife for some holidays coupled with photography in different places such as Angkor Centre for Conservation of Biodiversity, to spot the critically endangered Giant ibis, then with Joel Sartore and a filming crew from CBS's famous magazine 60 Minutes in the Philippines. The second part of this trip, with Joel, is the result of the 2 months I spent last year in Philippines scouting for the Photo Ark so I was very proud and thankful to be on board this photography trip. Despite the difficulties of navigating a country made of islands with very heavy yet fragile photographic gear, this trip was a great success and Joel Sartore managed to secure fantastic shots of most of Philippines rarest species, including the Philippine eagle and Walden's hornbill.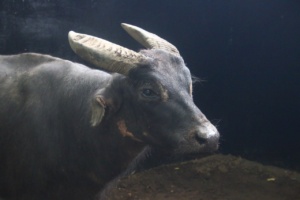 Kali, the very last tamaraw alive under human care treated us with very
nice pauses for the Photo Ark ! He will now live forever with this great project
and will be the ambassador of his species in publications to come (I will keep
you posted about this later).
    That's about it for now… more to come of course with new species pages that will be added soon and another Asian trip in November, targeting Malaysia, Singapore and Java. In the meantime, I hope you enjoy Pierre Wildlife and what this project has to offer. Thank you so much for your continuous support, it is much needed and appreciated !
Yours truly,
Pierre de Chabannes
Founder, Pierre Wildlife